2019 NASA Robot Mining Competition
Panama City Campus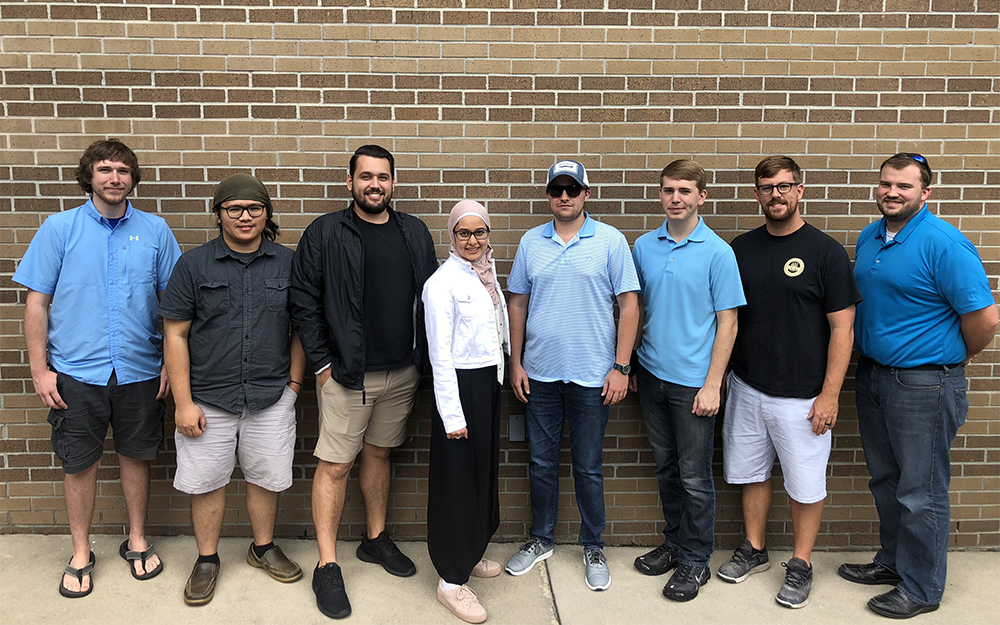 $50
Raised of $5,000 goal
Donate Now
Donations ended on 12/31/2018 9:00 PM
A team of electrical and computer engineering students will enter the 2019 NASA Robotic Mining Competition as part of their senior design project. Money raised will fund building materials and team travel to the competition May 6-10, 2019.
A team of electrical and computer engineering students will put their skills to the test designing and developing an autonomous mining robot for the 2019 NASA Robotic Mining Competition. Cory Abner, Mark Alejo, Christian Casey, Brandon Davis, Cody Delaney, Tasneem Salman, James Shaw and William Williams will participate in the annual competition as their senior design project, a graduation requirement for all engineering majors. In addition to materials and supplies for rocket development, the team must also account for a full week of lodging and travel to Kennedy Space Center in Cape Canaveral, Florida.
The nine-month national competition tasks teams with designing, building, mining and delivering payloads in accordance with NASA's official rules and rubric. Designs developed by teams will address the research needs of various subsystems when sending excavation and recovery units to nearby celestial bodies. Teams will share their research results, which will be used in future designs in addition to other projects undertaken by both NASA and FSU PC.
A team from FSU Panama City has never entered this national competition, making this a new endeavor for the campus. Official NASA public records also make no reference of participation by any other Florida State University campus making this a first for the university as a whole.
About the competition
The presence of water at the lunar poles was detected by NASA's Synthetic Aperture Radar (MiniSAR) on Chandrayaan-1 and confirmed by the Lunar Crater Observation and Sensing Satellite (LCROSS) space probe. Radar data collected by the European Space agency (ESA) Mars Express in 2018 points to a possible pond of liquid water buried under layers of ice and dust in the south polar region of Mars. Almost all water on Mars today exists as ice, though it also exists in small quantities as vapor in the atmosphere and occasionally as low-volume liquid brines in shallow Martian soil. The only place where water ice is visible at the surface is at the north polar ice cap with abundant water present beneath the permanent carbon dioxide ice cap at the Martian south pole and ice has been found at northern latitudes at shallow depths, as seen in NASA's Phoenix mission. Capturing this water is the key to allow humans to "live off the land" or in scientific terms "In-Situ Resource Utilization (ISRU)". The water can be used for human consumption, hygiene, grow plants, provide radiation shielding and to make rocket propellant for the journey home.
NASA's Robotic Mining Competition is for university-level students to design and build a mining robot that can traverse the challenging simulated, chaotic, off-world terrain, excavate the icy-regolith simulant (rock/gravel) and return the excavated mass for deposit into the collector bin to simulate an off-world, ISRU mining mission. The complexities of the challenge include the abrasive characteristics of the regolith and icy-regolith simulant, the weight and size limitations of the mining robot and the ability to teleoperate it from a remote Mission Control Center. Teams must also submit a systems engineering paper that explains their design approach, perform K-12 outreach into their communities and a presentation about their design philosophy at the competition. Points from all the categories determine the winner of the Joe Kosmo Award for Excellence.
Learn more about this year's competition.
0
Alumni
0
Students
0
Parents
1
Faculty/Staff
0
Friends
0
Board Members